Stoneham Quebec History Essay
Dog Sledding in Quebec
The Ultimate Wintry Experience with Aventures Nord-Bec
I already shared snapshots and thoughts from our recent getaway to celebrate Christmas in Quebec City. If our time wandering around Quartier Petit Champlain didn't inspire enough holiday spirit within us, we opted to spend our final day in Stoneham for a morning of dog sledding in Quebec.
I pried before we went: how responsible is dog sledding? I generally won't even visit a zoo, and we've all read about tiger sanctuaries in Southeast Asia and elephant rides that are less than ethical. In fact, TripAdvisor recently removed these listings from their site as they make strides towards pushing for responsible tourism. The practice of dog sledding received more attention after Canadian documentary, Sled Dogs, highlighted the slaughter ("culling") of sled dogs in Whistler as the company's response to a slump in tourism. In general, I'm always a bit skeptical with tourism and entertainment that uses animals as the draw but I was excited to experience something unique to the Arctic, and something that's an integral part of Arctic history and survival. We read about Aventures Nord-bec in Quebec, a company that came recommended by Chateau Frontenac, and poked through reviews to see how other visitors responded to the experience and the overall practice. It was something we were all very interested in so we committed to a morning dogsled ride and a tour of the grounds with the owner.
Shortly after arriving, we changed into proper snow gear (rentals for snow gear and snow boots are available on site) to prep for our outdoor adventure. Pascal, the owner-operator, gave us a quick lesson on dog sledding for newbies. This was my first time dog sledding and I naively thought that we'd be passengers in the dog sled (anyone else with me?), not that we'd be running the dog sled. I opted to take the seat in the sleigh and Scott took the reigns. The run-down is quick and the dogs are well-trained and know the ropes pretty well. The driver stands on the ski-like boards that jut out of the back and helps guide the dogs through turning and braking. To stop, pressure on the brake on the backside of the sled slows the sleigh and then stops the dogs.
There's a halfway point when pairs can switch so that each person gets a chance to take the lead. Pascal raised an eyebrow when looking at Scott & I; it's much easier to trade off when the passenger and driver are pretty evenly matched for weight. After having done it, I can tell you that it would have been extremely difficult for me to have taken the lead with Scott in the sled. First of all, I honestly don't think I could have held the dogs with my body weight. There was a point in our 45-minute tour when we made a wrong turn and Scott had to put all of his weight on the brake to hold the sleigh from moving. Even then the dogs were jonesing to get running again. Secondly, after the point at which you have the opportunity to swap places there's a slight incline which means the driver hops off the planks and actually runs and pushes the sled while the dogs pull. Pushing someone that's twice my body weight? Probably not the most successful dog sledding experience on record. Instead, I was content to be the passenger and take in the scenery as we sledding by snow-covered pines and through vast expanses of thick white frost.
Our time in Quebec City was a perfect, idyllic winter wonderland right out of a Christmas movie but dog sledding in Quebec was totally real-life Narnia. Sledding in December is never guaranteed since snowfall can vary hugely (in 2015 they'd had 12 cm vs. the 84 cm this year on the day we sledded) but by January sledding is in full swing.
Check out our video from our dog sledding in Quebec and read on to see my thoughts and take aways on dog sledding as a practice and its place in tourism.
Thoughts & Takeaways from Dog Sledding in Quebec
I think our instinct, especially when we're not from the tundra, is that this practice seems cruel in some ways. At first glance, it seems as though these dogs are forced to live in these freezing conditions, to run through the snow and pull 300+ pounds at any given time. Once we started going though, it was clear that the dogs wanted to run; when we'd brake they would jump up and down excited to continue moving. And the bit about them having to deal with the sub-zero days? While my island dog would shiver in the cold, these huskies and malamutes are breeds made for this weather. They weren't thrust into the tundra recently; they're designed for these climates in their very makeup. The practice of dog sledding with huskies is integrated into the history – and maybe the very survival – of people living in the Arctic.
The dogs each have their own little home, marked with their name and birthday on the facade. My biggest question mark was the dogs being chained to their homes on relatively short metal chains, but Pascal explained that a group of Alpha male dogs running around can lead to fights amongst the group. Inside, red reigns hang, organized by group with the dogs' names, and a workshop waits for Pascal and his team to build the sleds out of metal and wood. We also met a dog inside who was in recovery after having surgery. We watched as she played with Pascal and came over to share some love with us.
Next stop: PUPPIES.
Ice, one of the female dogs, had welcome two puppies, Whistler and Cayenne, about six weeks earlier and we had the chance to play with them before going back inside. We asked about the fate of the dogs. Do they get sold? Trained? As it turns out, none of the pups get sold. Pascal explained that they would be trained like their parents before them, with summer training sessions before getting to test their skills during the winter months. "We never sell our dogs," he explained. "We love them." After seeing the staff interact with the dogs, I believe that to be true.
All of that being said, I think it's critically important to evaluate each establishment individually and try to understand the scope of their practice. In general, I dislike supporting tourism hinged on using animals (e.g. I won't visit a Dolphin Discovery or visit a place where animals are sedated so humans can interact with them), but I also don't think it's fair to penalize the tour operators that are running ethical practices. In some instances, like this with dog sledding, animals and humans are tied to each other in the history and culture of a place; as such, highlighting the animals isn't necessarily a bad thing if they're being treated with the love and respect they deserve. As a traveler, I always feel conflicted. It can be difficult to try to ascertain which places are being responsible and which aren't. At the very least, we should dig deeper, ask questions (and never feel bad or embarrassed in doing so) and try to learn more. The more that we learn, the more we share, and the more transparency there is in general, the more we can be certain of our role in supporting ethical practices in the tourism industry. If we are genuinely wondering whether certain practices are responsible in the first place, we're heading in the right direction with our frame of thinking.
Have you been dog sledding before? What are your thoughts on the practice?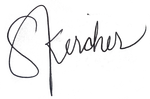 More about Shannon Kircher
Shannon Kircher is the founder and editor of The Wanderlust Effect, formerly The Traveling Scholar. Founded in 2009, she has continued to document her international escapes as an expat in Europe and the Caribbean. She is a former resident of London and San Francisco and now calls the island of Anguilla home. In addition to The Wanderlust Effect, Shannon is the Director of Marketing for the Frangipani Beach Resort and is on the Board of Directors of the Omololu International School in Anguilla.
Stoneham-et-Tewkesbury is a united township municipality in the Canadian province of Quebec, located in the regional county municipality of La Jacques-Cartier north of Quebec City. Its main attraction is the Stoneham Mountain Resort.
The large territory of the municipality is only developed and inhabited in the south, where the population centres of Saint-Adolphe, Stoneham, and Tewkesbury are located. Large portions of the north are included in the Jacques-Cartier National Park and the Laurentides Wildlife Reserve. The terrain is hilly, part of the Laurentian Mountains, and crossed by the Jacques-Cartier, upper Sainte-Anne, and Hurons Rivers. Some of the more notable lakes are Beaumont, Saint-Vincent, and Saint-Guillaume.
History[edit]
In 1792, Philip Toosey was granted some 70 acres (280,000 m2) of land that formed the beginning of the village that he named Stoneham after the namesake village in Suffolk, England, where he came from. That same year, the toponyms of the geographic townships of Stoneham and Tewkesbury appeared. Tewkesbury may be attributed to Kenelm Chandler who was born in Tewkesbury, England, arrived in 1764 and was granted 9713 hectares of land in Stoneham in 1800.[1][4]
The first influx of Irish, English, and Scottish settlers came in 1815. By 1831, its population had passed 175. In 1845, the Stoneham Municipality was formed and abolished in 1847. In 1850, the Parish of Saint-Edmond-de-Stoneham was formed, named after Edmund Rich of Canterbury (1170-1240). The Stoneham Post Office opened in 1854. A year later on July 1, the United Township Municipality of Stoneham-et-Tewkesbury was established, populated by about 25 families.[1]
In 1871, its population had grown to 640 (360 in Stoneham township and 280 in Tewkesbury township). In 1880, the Tewkesbury Post Office opened (and closed in 1963). The completion of the railroad, owned by the St. Charles and Huron River Railway Company, between Stoneham-et-Tewkesbury and Loretteville in 1912 led to intensive logging in the area. Timber was floated down the Hurons River to Stoneham from where it was brought by rail to Quebec City. The railway was also used to transport cargo and wood pulp of the Brown Corporation and the Donnacona Paper Company. By 1920, the place had become an important commercial center of northern Quebec.[1][4]
In 1973, the neighbouring municipality of Saint-Adolphe was annexed into Stoneham-et-Tewkesbury, making it one of the largest municipalities in Quebec at that time.[4]
Demographics[edit]
Population[edit]
Historical Census Data - Stoneham-et-Tewkesbury, Quebec[5]

| Year | Pop. | ±% |
| --- | --- | --- |
| 1991 | 4,384 | —     |
| 1996 | 4,842 | +10.4% |

| Year | Pop. | ±% |
| --- | --- | --- |
| 2001 | 5,266 | +8.8% |
| 2006 | 5,866 | +11.4% |

| Year | Pop. | ±% |
| --- | --- | --- |
| 2011 | 7,106 | +21.1% |
| 2016 | 8,359 | +17.6% |
Private dwellings occupied by usual residents: 2,811 (total dwellings: 3,376)
Language[edit]
Mother tongue:
English as first language: 2.2%
French as first language: 95.4%
English and French as first language: 1.3%
Other as first language: 1.1%
List of mayors[edit]
This list is incomplete; you can help by expanding it.
Edmond Bureau, 1938-1940
John Payne, 1940-1944
Philppe Plamondon 1944-1947
John Payne, 1947-1948
Sydney McCune, 1948-1975
Jean-Guy Vézina, 1975-1976
Raymond Labrecque, 1976-1980
Rodrigue Harvey, 1980-1990
Jacques Nolin, 1990-1994
Dany Barbeau, 1994-2005
Gaétane G. St-Laurent, 2005-2009
Robert Miller, 2009-
See also[edit]
References[edit]
External links[edit]
Media related to Stoneham-et-Tewkesbury at Wikimedia Commons